A recipe for a pureed pea soup topped with chili croutons.
Image banner
Give customers details about the banner image(s) or content on the template.
Ingredients:
Soup
2 tbsp olive oil
2 cups leeks, only white & light green parts, chopped (save tops of leeks for making stock)
2 cloves garlic, minced
4 cups vegetable stock
5 cups fresh peas
1 tsp salt
1/4 cup creme fraiche
Chives chopped for garnish
Pea tendrils for garnish
Croutons
1 cup safflower oil
3 tablespoon crushed chili flakes
¼ tsp salt
1 loaf crusty bread, cut into 1 inch cubes
Method:
Croutons
Preheat the oven to 350.
In a medium saucepan over medium-high heat, combine oil, chili flakes, & salt.
Cook over heat for 5-7 minutes, stirring often. Be careful to not let it smoke.
Remove from heat, cool to room temperature, and store at room temp in a glass jar. Place your cubed bread on a baking sheet, drizzle with chili oil and a bit of salt.
Bake until crispy, about 15-20 minutes, stirring half-way through.
Soup
In a large saucepan over medium heat, add oil until warm, sweat until tender & translucent in color, about 8 minutes. Add minced garlic clove & saute for 2 minutes.
Add vegetable stock & increase heat to high to bring to a boil. Add peas & only cook for 3-5 minutes until peas are tender. (You can use frozen peas, they will cook much quicker about 2 minutes.)
In batches, puree soup in a blender, or use an immersion blender.
Season with salt.
Pour the soup into four bowls, top with a spoon full of creme fraiche, croutons, and a sprinkle of chives and pea tendrils.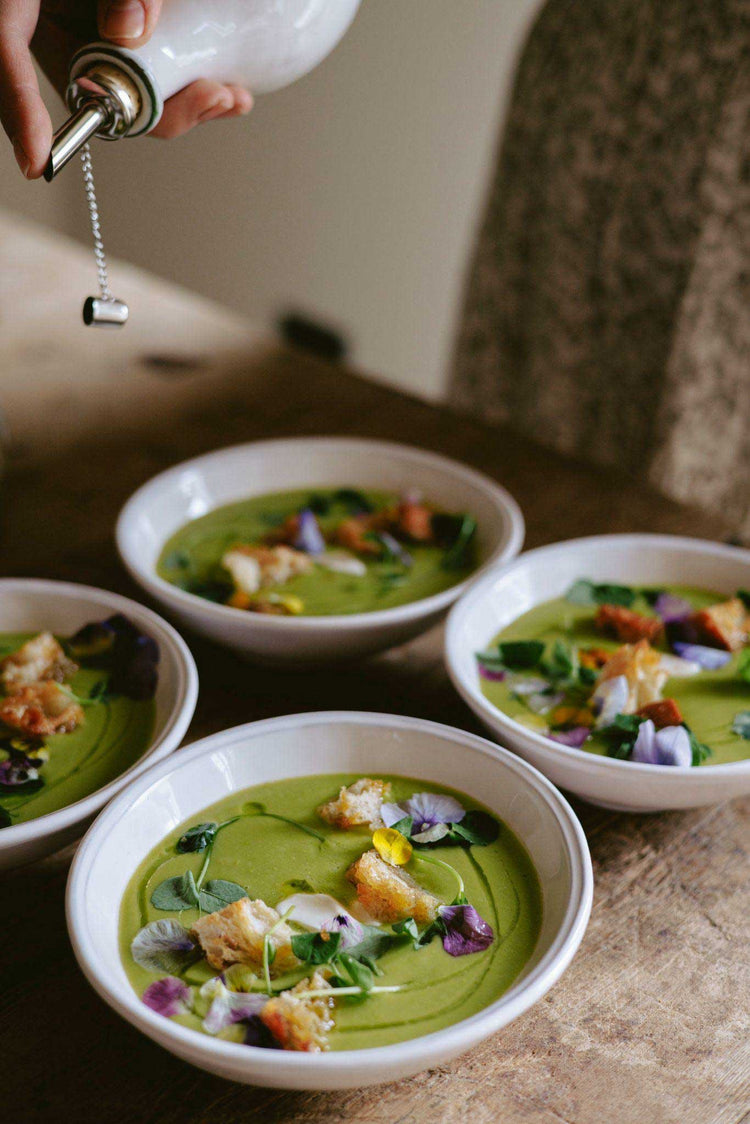 Image banner
Give customers details about the banner image(s) or content on the template.
Shop the accessories and tableware seen here:
Regular price
Sale price
$45.00
Unit price
/
per
Ayr Barns & Herbaceous Catering

Chef Genee Habansky, owner of Herbaceous Catering Co.,
started her professional career studying at the Natural Gourmet
Institute, a school that focuses on vegetarian, vegan, healthful and
healing cuisine. Launching Herbaceous Catering in 2014, Genee
sources most of her ingredients from local Connecticut farms and
local artisans. As a collaboration between Ayr Barns and
Herbaceous Catering, Genee has created dishes that are ambitious,
imaginative, aesthetically pleasing... and of course, delicious!
Follow Genee at @HerbaceousCatering
Choosing a selection results in a full page refresh.