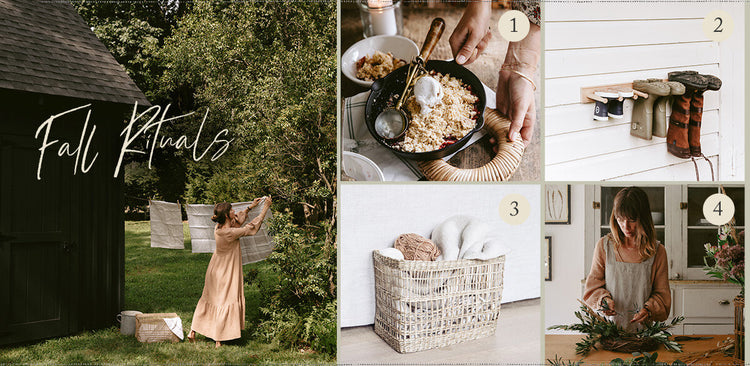 The Autumnal Equinox is always a favorite time of year for everyone here at Ayr Barns. As the seasons change, the balancing of day and night is a gentle reminder to find harmony in our lives, reflect on the years past, while looking forward to what's still ahead.
For this year, we're sharing some of our most treasured rituals that we keep to reflect, take inventory, and show gratitude for all of our various accomplishments, and milestones that we have been graced with since Ayr Barns was conceptualized.
1. Gathering for a Meal
More so a habit than a ritual, we have learned the importance of sharing a table with our most near and dear. As many of us are long separated from friends, family and colleagues, we cherish any opportunity to gather and share food, stories, and a glass of wine. Whether that be within arms reach, or virtually.
2. Express Gratitude
Now, more than ever, we have been feeling the need to reflect and take inventory of the things we're grateful for, as so many things we once took for granted have now become luxuries; whether that be our work, proximity to nature, or our well appointed homes.    
3. Restore Balance to the Home 
As we settle into our nests for the fall, having enjoyed the outdoors during the warmer months, we use this time as a chance to reconnect with our homes and act on projects we've been putting off, reassessing the functionality of our spaces. 
We're approaching this year as a year of replenishment to ensure that our spaces are in tip-top shape and prepared for the months ahead of us. We'll be clearing out the linen closets, turning out the contents of our kitchen cabinets, and diving into each crevice of the house to reduce, clutter, and replenish as needed.
4. Create Something New 
A hungry mind must always be fed; especially during the colder months. We'll not only be taking on some exciting new projects, but extending invitations to you all to join us as we craft meals, gifts, and some DIY decor for the season. We hope to see you join us! 

As with our beautiful collection, this list is very much our own, and in no way exhaustive or absolute. Just as we love seeing how our pieces are styled once they reach your homes, we'd love to hear what your rituals are for the Autumnal Equinox.

As always, please feel free to leave a comment sharing what you'll be doing to prepare for the season of nesting, or drop us an email to say hi; we always love hearing from you!    
Choosing a selection results in a full page refresh.